Good credit matters most times, but will it effect your homeowners insurance rates? We sat down with State Farm Agent, John Kerkes and hear what he has to say about this important topic!
When selling your home you never get a second chance to make a first impression so it is always important to create a wow factor with any prospective buyers. Here are 10 inexpensive tips that can make your home leave buyers wanting more!
Get a New Mailbox – Make your mailbox an extension of your home. You don't want the first thing a buyer sees to be an old rusty mailbox! If possible make a little path to the mailbox with bricks or stones to make it a little more homey.
Replace all Old Hardware – This is not expensive but it can make a huge difference! Replace all old knobs and handles and even light fixtures.
Add Plants – Add small trees and plants around the yard. This afternoon project can make a big difference for all prospective buyers when they are walking through the yard.
Garden – First take a few minutes and remove and flowers and weeds that might be in the garden. Next add new soil and replant some new flowers and maybe even add a few pieces of stonework to add some character.
Walkways – If possible add a stone walkway from the house to anything (mailbox, garage, spa, BBQ area, etc). This project should cost you less then $100 and adds a nice feature to any home!
Railings – If you have railings outside or on stairs inside the home its time for an upgrade. I might just be a new coat of paint or having it refinished but this small touch is sure to be noticed by your potential buyers.
Painting – Don't paint the whole house as that can get expensive. Instead just touch up any areas that need it. Most buyers end up painting the interior of the home when they purchase so don't worry as much about that focus on the exterior of your home.
Exterior Lighting – Adding solar lights along walkways and next to the driveway are a great touch and usually inexpensive. Plus if it looks great you can also include a night photo in your listing!
Family Pictures – Take down all family photos and add some inexpensive art from Ikea or some other discount home store to cover any marks on the wall. Remember you want all perspective buyers to feel like this could be their home, not like its YOUR home.
Clean Up – Before your showings begin make sure to remove all clutter and clean everything up. Many clients end up hiring a maid to come to their house once a week to insure the home stays clean for all perspective buyers.
For more information on selling your home or if you would like a Free Market Valuation contact us today!
Of all the places to live in Orange County, Irvine is one of the best.
Most of the time, if you were to ask someone about whether buying a home in Irvine is a good idea, there would be very few reasons they could give you to look elsewhere.
Of all the reasons people choose to call the City of Irvine "home", some of the favorites are:
Irvine has little to no violent crime
Irvine is one of few cities where residents can pick between any of 5 to 6 parks within a 10 minute walk from their home
There are dozens more reasons to live in Irvine, but here are the "Top 10" reasons:
You may have heard that the path to building wealth is paved with real estate investments. Housing trends nod in agreement. Home values in the U.S. have nearly tripled since 1991 as measured by the House Price Index. If you're ready to stop paying your landlord's mortgage and start building your own equity, then everything you need to get started is outlined below.
The idea of home ownership is exciting but plenty of first-time home buyers have fears about the whole process. Trying to save money for a down payment can feel downright overwhelming. And this is completely understandable in the face of student debt, restrictive entry-level salaries and low-inventory markets.
All of the information contained in these chapters shows you how to get your foot in the door of the housing market (and your first home).
Using the average salary of a college graduate, I'll show you what steps you need to take to buy a home, even in a steep market like Orange County, California.
This guide is your one-stop before you shop, where you can overcome all of your first-time home buying challenges with actionable tips and doable strategies.
Let's get started.
Chapter 1: Build Your Credit From 0 to 700+
Perhaps you strive to live a debt-free lifestyle. Or, maybe credit card myths have struck enough fear in you to never want to apply for a card. Love them or not, credit cards are like keys that open financial doors while misusing them locks those same doors. Knowledge of interest rates and healthy attitudes towards spending will keep you on track.
And unless you're an all-cash buyer, having a positive credit history is the first step in getting a loan. Your score goes up with the length of your credit history, so give yourself a head-start by starting this process early.
Many buyers wonder what a good credit score is. While I won't demystify the whole credit scoring process, the lucky number 700+ and beyond seems to be a good score for buying a home. Below we'll look at some strategies to establish great credit.
Apply For A Single Credit Card
One is an easy number to manage. Secure one card, then use it to pay one of your monthly bills. Starting with this safe credit-building strategy will keep you in the green zone as a future house hunter. Just be sure to read the fine print on any offers.
Treat It Like Hard Cash (Or a Debit Card): Hold off on purchases you can't immediately afford. If you only have a $5 bill for coffee, then a $10 splurge on avocado toast is out of the question. Apply the same logic to that plastic rectangle in your wallet. A starter credit card is not for avocado toast or any other indulgences.
Schedule autopay: Autopay is your friend. With autopay, you'll diligently pay off that one expense every month. You need to show a balance on each monthly statement to be considered to be using credit. Pay off the entire statement balance in full before the due date to avoid interest.
Not Eligible For a Card?
This could be due to income obstacles or having zilch on your credit history. But, like a multiple choice exam, you have options. You will need to explore the best one for your situation. Here are a couple of ideas to get you started:
Explore Student Credit Card Offers: Look into securing a student credit card to gain financial independence while you're still living the dorm life. And don't be tempted by low introductory interest rates. Even if you're offered a 0% APR, you still need to pay off your balance each month to avoid skyrocketing interest rates after the initial honeymoon offer.
Become An Authorized User: Another workaround to this challenge involves reciprocal trust. Ask a parent or trusted guardian if they are willing to add you as an authorized user on their card. American Express offers credit cards where the cardholder can establish spending limits for authorized users. Use this approach with caution, because your credit also suffers if the main cardholder misses a payment. Analyze the pros and cons here to determine what's best for your situation.
Now, a single credit card may not be enough to build mortgage-worthy credit. So what can you do?
Manage 2-3 Credit Cards
Give yourself some credit; you've exercised financial control with one card in the steps above. Now let's graduate to using 2-3 credit cards. Put the cable bill on one card and gasoline on the other. Add a third card for the phone bill for good measure. Use them for necessary expenses that remain steady from month to month. Again, these are not the cards you bring to happy hour. You won't be leaving too happy if you end up putting a round of drinks on credit.
Finance One Small Purchase
Think of one small purchase you would otherwise be paying for in cash. Are you moving from the dorms to your own apartment and need to buy your own mattress for the first time? Or, perhaps you've started commuting to a new job and need to buy a car. Mattresses and cars are the types of purchases that usually come with the option to finance. This is where you can make monthly payments instead of forking over all your cash at once.
Consider making a purchase you can afford the payments on and would already be making anyway. Ideally, make a purchase you can afford to pay for in cash. Unlike houses, cars and mattresses quickly lose value over time. Spending less is better when it comes to these types of purchases.
If you have the cash and finance the purchase solely to build credit, separate the money for that purchase from other funds. This ensures you're able to make the payments. The idea here is to take the mattress money and put it into an interest-bearing savings account. Then only withdraw as needed to make the payments so you don't inadvertently squander the money on something else.
Pro tip: you will earn interest.
Play with different credit-building scenarios using a credit score simulator. And be sure to check your free annual credit score.
Chapter 2: How To Budget Like a Boss
A lot of people cringe at the word budget. It just sounds so restrictive. But what if you saved without completely depriving yourself? Budgeting is a lot like sticking to a successful workout plan. Realistic goals need to be set or else you face burnout. Creating a budget allows an assessment of whether or not you are overspending. And if your income goes up, a budget prevents you from falling into the pitfalls of lifestyle inflation.
Calculate basic survival costs. Utilities and transportation costs are relatively fixed costs. Set up autopay on your credit cards to pay these expenses right away. Autopay also has the advantage of allowing you to digitally track any vital expenses.
Get sufficient monitoring on your spending. There are plenty of tech apps you can use to see where your dollars are landing. Alternatively, ask a trusted friend or family member to check in on your budgeting goals.
Give yourself a fun cushion. Most people end up splurging occasionally on food and entertainment, which adds up fast. Failure to account for fun makes you feel like you're always going over, preventing you from taking your budget seriously.
Struggling to create a careful budget as a new college graduate? Feel free to use the example below as a guide and adjust the numbers to fit with your lifestyle. According to the Bureau of Labor Statistics, recent college graduates in Los Angeles have an average salary of $55,709. This median figure assumes a minimum annual raise to adjust for inflation, which was 2.46% for the year 2017-2018.
Food
How you fuel and nourish yourself gets a little tricky. Are you dining out most nights due to a busy schedule? Eating at restaurants tends to be more expensive than cooking at home because you're covering the overhead of a business. Make sure grubbing doesn't senselessly eat up your entire budget:
Shop the local farmers' market for savings. Local produce reduces the cost of shipping and seasonal items tend to be more abundant.
Prep meals on the weekend, then store them in meal containers so they're ready to go every day.
Research recipes ahead of time to make a list of what you need.
Remember, one is an easy number to manage. Shop your local market once a week to keep your spending consistent.
Have a plan for all items to ensure nothing goes to waste. Use your freezer to stretch the lifespan of perishable products.
Learn how to cook chicken 7 different ways to stave off meal boredom.
Become familiar with the average price of your checkout receipts. You can look over your receipt to see if you're spending heavy or lean in comparison to the USDA's food plan. The highest cost USDA food plan for an individual is $368 per month. A budget of $400 should be enough to feed you well with room to spare for the occasional dinner date.
Gas for Your Car
The price of gas fluctuates, so it's important to include some cushion here. We tend to only buy as much as we need, so for this budget item, find a pattern to gauge what you typically spend.
Find out how much you spend in an average week.

Get an estimate of your car's average mileage per gallon. Then, use this to determine the number of gallons of gas you need each week. Multiply by the average cost per gallon in your area to get your weekly cost of gas.
Alternatively, you can reflect back on the recent past and determine how many times you tend to fill up your tank each week. Then figure out how much it usually costs. Play it safe by rounding up (the more you budget for necessary costs, the less room there is in the budget for unnecessary costs).

Multiply this by 5 to get your budgeted amount. Multiplying by 5 gives you a little cushion.
Let's say you don't drive (often) and rely on public transportation or ridesharing. Simply replace gas with your main mode of transportation and apply this same concept. Estimate your weekly cost by walking through an average week in your head. Then multiply by 5 to get your monthly transportation budget amount.
Insurance
This should be easy to budget for. You can't go without it, and the price doesn't fluctuate often.
Look at your most recent policy renewal documents to figure out how much you are currently paying and when your policy expires.
Drop your current monthly rate into your budget and revisit this to check for price changes when your policy expires or when you start a new policy.
Check with friends and family to see how much they pay for insurance. If they pay less, then you may be overpaying. If that is the case, shop around to see if you can get the cost down.

When you are shopping, make sure you are comparing apples-to-apples. A policy that provides half the coverage is likely to cost less but might not provide the protection you need.
Auto Maintenance
Depending on the type and age of your vehicle, this expense varies significantly. And since it's not a regular monthly cost, it is difficult to budget for.
Set aside some cash each month for this since it is a necessary expense. If your car runs in decent condition, plan on an oil change a couple times a year and another higher cost maintenance job every year or so.
The cost of an oil change varies from around $25-$70. A budget of $25 a month comes out to $300 per year, which should be enough for a couple oil changes and the occasional brake, transmission fluid, or tire change.
Anything beyond expected maintenance could easily push your average cost of auto maintenance to more than $25 a month. But the idea of building a cushion into each budget item allows you the flexibility to absorb any irregular costs when they crop up.
Utilities
Bills like water or electricity will vary each month. For utilities that vary, look through your recent bills to see your average spending. Your monthly average is the amount goes into your budget.
Are some months higher than others? If so, determine what causes them to be high and see if it's possible to lower them.
Avoid or minimize the use of A/C and heating to lower costs. However, budget for an amount you will be comfortable with. If you live in an area where it gets below freezing, then you will probably need to crank up the heater.
Utility bills — such as cable, internet and phone — are easy to budget for since they usually stay about the same each month. Just keep a watchful eye on your most recent bills. Even though these usually don't change, double check each month for unexpected increases.
Keep your phone bill down by going with a low-data phone plan and connecting to WiFi whenever possible to use smartphone apps.
Consider cutting the cord to reduce or eliminate cable costs. Paid streaming services are becoming a popular alternative.
Personal Care
Grooming is not only important but necessary in the professional world. Depending on where you live, $100 a month should be enough for a haircut, basic toiletries and buying new clothes as needed. However, some individuals get by on less than half of that, and others regularly spend twice as much. Think through what you absolutely need in order to meet your minimum standard of comfort. If you're someone who tends to splurge on personal comforts, set a reasonable limit and leave some cushion to absorb any overages.
Fun Cushion
This is specifically for things you don't need to spend your money. Let's include it in the budget to be realistic.
$200 a month is $50 a week. This should be enough to go out for drinks, see a movie, catch a ball game or indulge in another modestly priced amusement at least once a week.
Give yourself a limit so you know when to stop. If you blew through your weekly fun cushion going out with your friends one night and they go out the next night — sit this one out. Just remember, there is always next week.
If homeownership is what you want, keep your eyes on the prize and the fear of missing out will fade into enthusiasm for the life you are working towards.
Social pressure to go out can be very real. Try getting comfortable with phrases such as, "I'd love to but I can't afford that right now".
Chapter 3: Save Up For a Down Payment
Before you start house hunting, you need to have payment lined up. While cash speaks loudest in real estate, most people need financing to buy a place.
A down payment is a portion of the purchase price paid in cash. The rest of the purchase price is paid through a loan. Since the purchase price consists of a loan plus a cash down payment, the big question is: how much down?
Decide How Much To Put Down
Traditionally, most people put down 20% of the purchase price. Twenty down gives the most favorable loan terms and eliminates mortgage insurance. However, there are workarounds if this number is too pie-in-the-sky for you. Most lenders require a minimum down payment of just 3% but expect the additional cost of mortgage insurance or a higher interest rate. Going this route means your monthly payments will be higher than putting 20% down.
To determine the minimum amount needed to start shopping, look at homes on the market in your area and see what the price range is on the lowest priced homes that you would consider living in. Then take 3% of that to determine your absolute minimum down payment.
Save money to pay for closing costs
Expect to pay fees to the lender, title and escrow company when buying a home. These typically run about 2%-5% of the purchase price. Appraisals are another out-of-pocket expense you can expect to pay, in addition to any of the seller's prepaid property taxes. Take 2% of the home price you used to find your minimum down payment to estimate the minimum you need to save for closing costs.
Determine Your Loan Amount
Before you start shopping for a house, find out how much loan you qualify for. The best way to find out is submitting your information to a lender, who finds out how much you qualify to borrow. However, when buyers think they don't qualify in the first place, it can kill their motivation to take this crucial step. Even if you have a gig-type job, you'll find mortgages work on a case-by-case basis depending on where you go. It helps to understand what lenders are looking for.
The main factors that go into qualifying for a loan are:
Loan-to-value ratio
Credit Score
Debt-to-income ratio
Loan-to-Value Ratio
The loan-to-value ratio was already tackled in the previous step when you determined your down payment. The maximum loan-to-value ratio on a conventional loan is 97%; this means that your down payment needs to be 3% of the purchase price and the loan can cover the remaining 97%.
Credit Score
We tackled this in Chapter 1. If you have established sufficient credit and made all of your payments on time, then this should not be an issue. Using 2-3 credit cards, financing and paying off a purchase should do the trick. In general, you need a score of at least 700. It is possible to qualify for a loan with a score below 700, but the pricing will be worse and the lender may require you to have reserves (excess cash left in the bank). There are various free tools out there to monitor your credit score and simulate the impacts of various actions in order to see what actions you need to take to get it above 700.
Debt-to-Income Ratio
This is calculated by dividing your total monthly debt payments by your gross monthly income. The maximum debt-to-income ratio on a conventional loan is generally 43%. To get an idea of the maximum amount of loan you will qualify for, take 43% of your monthly income. Then subtract any debt payments you already have (e.g. auto loan payment, student loan payment, etc.), and what is left is the amount of monthly housing payment you will qualify for. A housing payment includes principal and interest on your mortgage, plus homeowner's insurance, property taxes — and if applicable — HOA fees and mortgage insurance.
Now let's look at an example of how to apply the concepts from this chapter to see how much you need to save at a minimum to buy a house. We will look at buying a 1 bedroom 1 bathroom condominium for $249,000. Assume a down payment of 5% and closing costs of 2%, making the total required savings of $17,430. Based on the budget example from Chapter 2, it will take about 21 months to save up to this.
Check out this case study:
Joan has a salary of $55,709; she represents a person with the average salary of a new college grad in Los Angeles. Her gross monthly income is $4,642. 43% of this is $1,996.
She has monthly payments of $203 on student loans and monthly minimum credit card payments of $50.
This leaves $1,743 of gross income to go toward her house payment.
This $1,743 will need to cover principal, interest, property taxes, homeowner's insurance, mortgage insurance (if applicable), and HOA fees (if applicable).
Joan found a one bedroom condo in Long Beach, California for $249,000. With a 5% down payment, her loan amount will be $236,550.
She wants a 30-year fixed rate loan and determines with a simple google search that the current interest rate on such loans is 4.75%
The monthly principal and interest payment on this loan, as calculated using excel or an online calculator is $1,234.
Mortgage insurance rates can vary, so she gets a quote from a lender which can be done online or by calling. An online calculator can also be used to estimate the cost.

She gets an online quote from a credit union which reflects monthly mortgage insurance payments of $118.

Property taxes and insurance will vary depending on the location and type of property.

The annual property tax rate is currently 1.115% of the assessed property value in Long beach which comes out to $231 per month.
Homeowner's insurance can be estimated at 0.35% of the purchase price which comes out to a monthly cost of $73.

Since Joan is looking at buying a condo, she will also have to include HOA fees.

The listing for the property she's looking at will shows the amount of HOA fees at $281 per month.

This brings Joan's total monthly house payment to $1,937. This is just below the $1,996 calculated above, which means that Joan should have the income to qualify, assuming she has strong credit and employment history.
You can also use a back-of-the-envelope calculation as outlined above to get an idea of how much you need to earn and save.
Once you're ready to jump in, get prequalified by a lender to determine what you qualify for.
In this chapter, you've gained more information about saving. You can review Chapter 2 on budgeting to reassess how much you want/need to save on a monthly basis in order to save up enough for a down payment.
Chapter 4: Loan Shopping Tips To Get You Prequalified
In the previous chapter, you determined your minimum amount needed for down payment and closing costs. Most agents will ask if you're pre-qualified before taking you to view homes. So before you hit those open houses, you need to get prequalified by calling a reputable lender.
Shop around to find the best lender.
Try a credit union or boutique mortgage banker who will look at your situation subjectively. New buyers often need to explore unique programs to fit their circumstances.
Look up the license of any lender before you start doing business.
A real estate agent might also have an excellent lender referral.
The lender will take your information and tell you how much loan you qualify for. They provide the buyer and/or the agent with a letter indicating the approved amount. This letter will be submitted to a seller when you make an offer.
Make sure to have your cash down payment ready in an accessible bank account. You'll need to show proof of available funds when you submit an offer to a seller and will need to make a cash deposit within a short period of time — if your offer is accepted. Once you get a prequalification letter, you're ready to pick a great real estate agent.
Chapter 5: Winning Strategies To Finding a Great Real Estate Agent
As a buyer, choosing the right agent costs you nothing. But choosing the wrong one might cost you everything. A great real estate agent holds your hand through the process, laying out all your options honestly. The most important tidbit is to find an ethical person who will go to bat for you every step of the way. Emotions should not dictate who joins you in this business transaction. With this in mind, how can you keep your emotions in check as you find "the one"?
It's More Than a Side Gig
Simply put, a full-time agent has the experience to navigate the nuances of your local market. Sometimes, a relative or friend who doesn't regularly practice real estate in your area may offer to represent you. If you're not confident in their skills as an agent, you can ask for a referral instead. They receive a finder's reward, and you save yourself a potential headache. Here are a few tips to help you find a good agent. Look for someone who is:
Referred to you by a former client. The honest recommendation from a happy client can say a lot.
Able to communicate quickly. Try texting or emailing with an agent to get a feel for their average response time. Hot homes are often snatched up within a week of being listed. Do you want to miss the perfect place because your agent was too slow to return calls? Do you want offers to be submitted at a glacial pace without proper follow up? Obviously not. A proactive agent won't let you miss out on your ideal home.
Knows the area intimately. Find out how long they've lived in the area. An agent is the eyes and ears of neighborhood market trends. Sometimes, homes sell off the market and these pocket listings are great when the housing inventory is low. A well-connected agent might be able to reach into their own networking pockets to find you hidden, off-market gems for sale.
Knows the meaning of the word NO. You shouldn't feel the heat for passing on a home or feel pressured into making a decision. The agent is there to be a trusted resource and advocate, not a source of stress.
Negotiates well. Ask them if buyers in your price point pay over or under listing price. Listen to see if they have a good read on the market's temperature. When the new house smell fizzles, you don't want to feel as if you overpaid for your abode (though you might feel this way no matter what). You need a tough negotiator who knows how to counter listing agents and can present strong offers. The best thing a buyer can do is stay informed by checking listings online. For instance, if a home is on the market for over 60 days, it's probably overpriced. Communicate about the market's price points so you feel engaged in the process.
Willing to use technology efficiently. Look for an attractive online presentation of home listings. Do you see appetizing photos that make you want to go view the property? This highlights how well the agent takes care of their seller clientele, and will probably take good care of you, the buyer.
Closing transactions in your area. Ask your agent how many transactions they've done in the last year. Are they experienced in representing buyers in your price point? How many listings do they have? These are all questions you can ask an agent.
The Seller's Agent is Not Your Agent
It's not ideal to allow a listing agent to represent you as the buyer. If you were involved in a minor fender bender, would you rely on the other party's insurance to represent you, or would you want to have your own policy? Having your own agent ensures you're protected if things go awry. Here's a common home buyer mistake:
A buyer romanticizes an online listing.
Buyer calls the listing agent to get more juicy details.
Agent may offer to double end the deal if the buyer has no agent.
Agent may offer to knock a little off the commision.
The listing agent already knows what home to sell the buyer, so there's no pros and cons weighed on the property.
At negotiation time, the seller's best interest will take priority over the buyer's.
Any savings will be marginal and will be lost at negotiation time. Bottom line: Find an agent who represents your best interests and is in your corner the whole way through.
Check For Disciplinary Actions
Go online to your state's licensing board to verify an agent's record. There you'll find out just how ethical the agent really is. Scan for any disciplinary actions or revoked licenses. For instance, if you live in California, just plug an agent's BRE number here.
Look At Specialities
Just as there are different educational requirements for high school teachers vs. college professors, real estate agents can have specialties that require additional training hours:
ABR (Accredited Buyer's Representative): Represents buyers in transactions.
CRS (Certified Residential Specialist): Awarded only to the top residential real estate agents.
MRP (Military Relocation Professional): Understands VA financing and permanent change of station moves.
ALC (Accredited Land Consultant): Specializes in buying undeveloped land.
SRES (Seniors Real Estate Specialist): Helps buyers and sellers over the age of 50.
See if an agent is a member of the NAR (National Association of Realtors). Part of the qualifications to join is abiding by a higher code of ethics.
Connect With Recent Clients
Ask the agent if any former clients are willing to speak with you. You might be provided with a recent list of sales along with contact information. From there, take a look at what the buyers paid compared to the original listing price. Chatting with past clients will give you a feel for how smoothly the process went.
Chapter 6: How To Find Your Dream House
A big challenge first-time home buyers have is finding a place they can afford while the housing inventory is low. As home values continue to climb, delaying to enter the market means facing a more competitive market as time goes on. Depending on where you live, wages can be slow to catch up to the rapid rise of real estate values. Understandably, these obstacles have would-be home buyers worrying if they'll ever snag their own property. You might have to adjust your idea of a dream abode while watching out for a property's red flags. Below are a few strategies to keep you on track.
Stay Unattached
Hot emotions + hot markets = cloudy decision making. So don't get attached to the first place you see online. Manage your expectations if you don't want to get discouraged. To keep your cool, double check the logistics:
Don't focus on what you can change (popcorn ceilings) but consider what you can't change (location). Decide if you can live with what's impossible to change. If you can't live with something and can't change it — this is a deal breaker. Make a list of your deal breakers.
Look at more homes to gauge how far your money goes, then reevaluate your current prospect.
Accept that no place may be 100% perfect, so be prepared to compromise.
In a competitive market, you don't always have the time to mull over a decision. Right around the time of getting prequalified, start visiting homes to familiarize yourself with your housing deal breakers.
Attend Plenty of Open Houses
How can you know what you want, if you haven't seen what you can get? Online photos and virtual tools only tell one part of the story. Physically pulling up to the crusty curbside of what looked like a pristine property online tells another story. Also, viewing multiple homes can sharpen your buying acumen.
Open houses offer real intel on what your dollars can actually get you.
You gain perspective. After seeing a few duds in your price point, that so-called "shack" you passed on now looks historic and cozy.
You'll know a deal when you see one and develop an eye for serious issues.
Visiting a neighborhood allows you to view the parking situation if you own a car or plan on having visitors. You also can visually inspect the condition of the surrounding properties.
Scout the Neighborhood
Visit the prospective neighborhood on a Friday night or Saturday afternoon when everyone is home from work. Check the activity levels of the neighborhood. Listen for any fixed noises, like the regular blowing of a train horn. Can you convince yourself that the whooshing of a busy interstate actually sounds like the ocean at night? Conducting your own neighborhood investigation lets you see (and hear) what will and won't work for you.
Look around. Neighbors taking walks and waving to each other can be the signs of a friendly block.
Listen up. Loud parties and barking dogs might not bother you, but it will for some.
Test your commute. Drive from the property to your work or vice versa during peak traffic hours.
Make a Compromise
It's not easy to adjust expectations, especially when a large financial commitment is involved. Everyone wants to feel like they're getting a good deal. One approach is to view your first property as a "starter home". You might have to sacrifice square footage and granite countertops to get into the housing market. At the same time, you should be able to envision settling in a place for a few years. For some homebuyers, there is a fear of being stuck with a property. Here are some tips for overcoming the "commitment fears" for those first 5 years:
Unlike rent, your mortgage payment will not rise over the years. Over time, you will actually be paying less on a mortgage as rent climbs.
Check the local real estate trends. Have home values generally increased? They probably have. Will you break even if you sell? In a sizzling marketplace like coastal California, you might break even or possibly come out with more equity than you started within as little as a year or two.
What if you need to move? If it's not a good time to sell, or you would rather not lose equity in selling costs, you have the option to rent it out. Depending on when you bought, you should be able to break even or at least come close to covering your mortgage payment with rent.
Bottom line: you have options to opt out. But pause the buying plans if temporarily lowering the bar on your living situation is out of the question.
Become Handy
If cosmetic issues are your only deterrent, try to visualize what you're willing to fix up on your own.
Home buyers often turn to YouTube for realistic tutorials on minor renovations. Even if a place looks cherried out, you may still end up renovating to personalize your space.
See if there is room for expansion in the future. You may decide to extend your stay in a starter home.
Check the Livability
The safety of a neighborhood affects resale values and your sense of security. You may want to walk your dog at night or shop retail stores on foot. Use the tools below to measure how walkable or safe a neighborhood is:
AreaVibes: This free tool assists your search by displaying a letter grade of the aspects you value most. From education to crime, you can explore maps to gauge the qualities of any locale.
Walk Score: You can analyze how pedestrian friendly an area is by searching your city.
Grade The Neighborhood
Even if you're not enrolling kids in the public schools, the National Bureau of Economic Research found a positive correlation between home values and school expenditures. Data aside, what makes a great school will vary from family to family, so it's important to speak with members of the community.
Great Schools: Plug in a home address to find the ratings of assigned schools of any prospective properties.
School Digger: This site gives you comparative stats on how school districts compare to each other in your desired area.
Chapter 7: A House Divided: Choosing Between Condos or Detached Homes
You can go house hunting or you can go condo hunting. Depending on your needs and price point, you might choose a neighborhood that's suburban, urban or the in-between — surban. The uprise in urban living has condos in high demand, but some still prefer the liberties found in single-family homeownership. Deciding which style dwelling is best for you comes down to lifestyle factors and financial feasibility. Keep in mind both possibilities are limited by a buyer's price point and the market's inventory.
Condo Pros
Typically located in walkable areas near retail and transit, allowing some to skip hefty car payments.
Association fees usually cover the maintenance on a structure's exterior, roofing and landscaping for those seeking a low-maintenance lifestyle.
An HOA may come with resort-style amenities like fitness centers, playground structures and pools which are costly in a home.
Cohesive aesthetics are usually enforced; the neighbors can't create a junkyard next door.
Barring expensive HOA fees, condos tend to be more affordable than single-family homes.
Condo Cons
On top of mortgage payments, you pay association fees. These fees are subject to increase to cover extra maintenance costs or lawsuits.
There's a lack of freedom. Unit modifications can require a stringent approval process, including additional application fees for any remodeling.
Breaking any HOA rules can result in monetary fines or disciplinary actions.
Owners are at the behest of a governing board and all the personalities who run it.
HOAs can restrict how the unit is occupied, including renting stipulations.
Single-Family Home Pros
Buyers have total control of the property; changes or remodels (that can improve home values) are not dictated by a governing board.
Houses with yards have extra breathing room for families, pets or gardeners.
Houses tend to offer more storage options with attics, basements or garages.
Single-family dwellings can feel more private because walls aren't shared with neighbors.
Houses tend to neighbor long-time homeowners, creating stability and a sense of community.
Single-Family Home Cons
Homeowners are responsible for all maintenance costs inside and outside the property, including fences and landscaping.
Homeowners need a larger emergency fund available in the event of a sudden disaster, such as a leaky roof.
There are no amenities offered. Depending on the size of the home, utility bills may be higher.
Your neighbors can paint stripes on their house and park rusted cars on their lawn, which can affect aesthetics and the home's selling potential.
Chapter 8: How To Successfully Close Escrow
Escrow opens the moment an offer is accepted. It closes once all buyer funds have been submitted, contingencies are removed and the loan funds. Any purchase and sale agreement will typically specify a window of time for the escrow period. When escrow doesn't close within that window, the seller is free to sell the property to someone else. Here are some tips to keep the ball rolling smoothly:
Be ready to make an initial deposit within the first 3 days.
Have payment funds available before escrow opens. Even though it's typical to deposit most of your funds just before closing, the money should be sitting in an account and ready to go.
Keep the money still. Moving it around can delay the process by requiring additional documentation.
There will be a lot of paperwork from your lender, escrow officer and real estate agent — be ready to review and sign documents in a timely manner.
One big obstacle first-time home buyers face is falling out of escrow. Sometimes buyers jump out of a deal, and sometimes it's out of the buyer's hands. What are the most common pitfalls for first-timers?
Inspection
Buyer's remorse
Failing to get the loan approved
Inspection
Unless the property is a foreclosure, buyers can usually complete a physical inspection of the property. This needs to be paid for out of pocket, but it is a necessary cost to check for issues and defects. During the inspection, you may learn things about the property that are structurally concerning or financially demanding. For instance, the inspector may reveal the exterior is rotting because the land slopes negatively towards the house, causing water to pool at the foundation. Analyzing information like this allows you to decide whether or not a home is a worthy investment. Remember, surprises are great for birthday parties, not home buying.
A standard inspection discloses information about aspects of the property that can be viewed without causing damage to the property (such as opening up walls). The inspection provides all of the information you need, but if you suspect any issues beyond the scope of a standard inspection, you may need to perform additional inspections. Details about the condition of the property in the form of disclosures will come from the seller, the seller's agent, and your agent. Read these disclosures carefully to see if anything warrants further investigation. Make sure you are comfortable with the issues that are disclosed. Also, if there are a lot of unexpected repairs, you and your agent can negotiate who covers these expenses.
Buyer's Remorse
Home buying is an optimistic venture and nobody goes into it thinking, "I'm buying now only to regret this later". However, this can happen. And while it's impossible to predict future feelings, here's how to overcome this mental obstacle if you begin to experience cold feet.
Review Chapter 6, where you'll find a list of your deal breakers. Viewing a lot of properties gives you the confidence to know you're making this decision as an informed buyer; not on an emotional one on a whim.
Overanalyzing the process with well-meaning friends and family may push you towards the "the grass is greener" syndrome. They may have bought their property 10 years ago under different market conditions.
Unless a home is newly built and turnkey, most properties have some issues. Determine how urgently the repairs need to be addressed and how costly they are (and recheck your budget in Chapter 2). This will help you decide if the property is worth the asking the price.
When concerns are legitimate, you can cancel the contract as long as contingencies haven't been removed. You will lose the inspection fee, but this is a minimal cost compared to any astronomical repairs you'll have to contend with when escrow closes.
Loan-Approval Failures
You might think once the offer is accepted, it's time to purchase furniture for the new home. Don't get ahead of yourself. Even though your lender has taken your information and issued a prequalification letter, nothing is set in stone until the loan is underwritten and approved.
To ensure your loan gets approved, avoid doing anything to change your financial situation during the escrow period. In fact, this tip should ideally be applied from the moment you are prequalified. If you do anything that changes the factors that were used to get your prequalification, you may no longer qualify. Financial consistency is key.
Keep your current job.
Keep the same number of credit cards (don't apply for new ones or take out a line of credit).
Don't make any large purchases (hold off on that new car).
Conclusion
You may be wondering if home buying is all it's cracked up to be. The answer to that question largely depends upon the outcome of future events. And while we don't have a crystal ball, we can get an idea of what the future might look like with a few basic assumptions. Returning to our example from Chapter 3, let's take a look at how Joan's net worth could grow over time after buying that one bedroom condo. We'll compare that to how she might fare financially if she were to take her savings of $20,361 and invest it somewhere else.
Below are some assumptions we can reasonably make for the sake of this analysis.
Inflation: 2.46%

We will assume that Joan's income and living expenses (other than housing) grow at this annual rate.

Increase in rent: 2.75%

Based on the 2017 fourth quarter PwC Real Estate Investor Survey, the average market rent change for the Pacific Region was 2.75%.

Increase in home values: 3.86%

The FHFA's House Price Index reflects an average growth rate of 3.86% for homes in California for the period from 1991-2018. It's important to note this includes the period of unprecedented decline fueled by the subprime mortgage crisis, making this a fairly conservative estimate of future price growth. For the past several years, values in California have consistently increased at an annual rate of 7%-9%.

Increase in values of alternative investments: 10%

The average annual rate of return for the S&P 500 index from 1928-2017 is approximately 10%. This serves as a reasonable proxy for what Joan can expect to earn on her money if she invests in the stock market instead of housing.

Taxes can be calculated based on rates in effect for 2018, with the assumption that Joan will take the standard deduction if she remains a renter.
Mortgage insurance is required to be terminated with the loan balance reaches 78% of the original property value. This will occur 9 ½ years after the loan is originated if all payments are made. Although it may be possible to get rid of mortgage insurance earlier, we will assume it goes away half way through Joan's 10th year of homeownership.
To account for the impact of cash flow differences between renting versus owning, let's assume that all cash savings in subsequent years are immediately invested in the stock market.
Below is a snapshot of what Joan's first year as a homeowner might look like if she were to buy that one-bedroom condo for $249,000 versus continuing to rent a one-bedroom apartment for $1,500 per month.
And here is what the next 30 years might look like.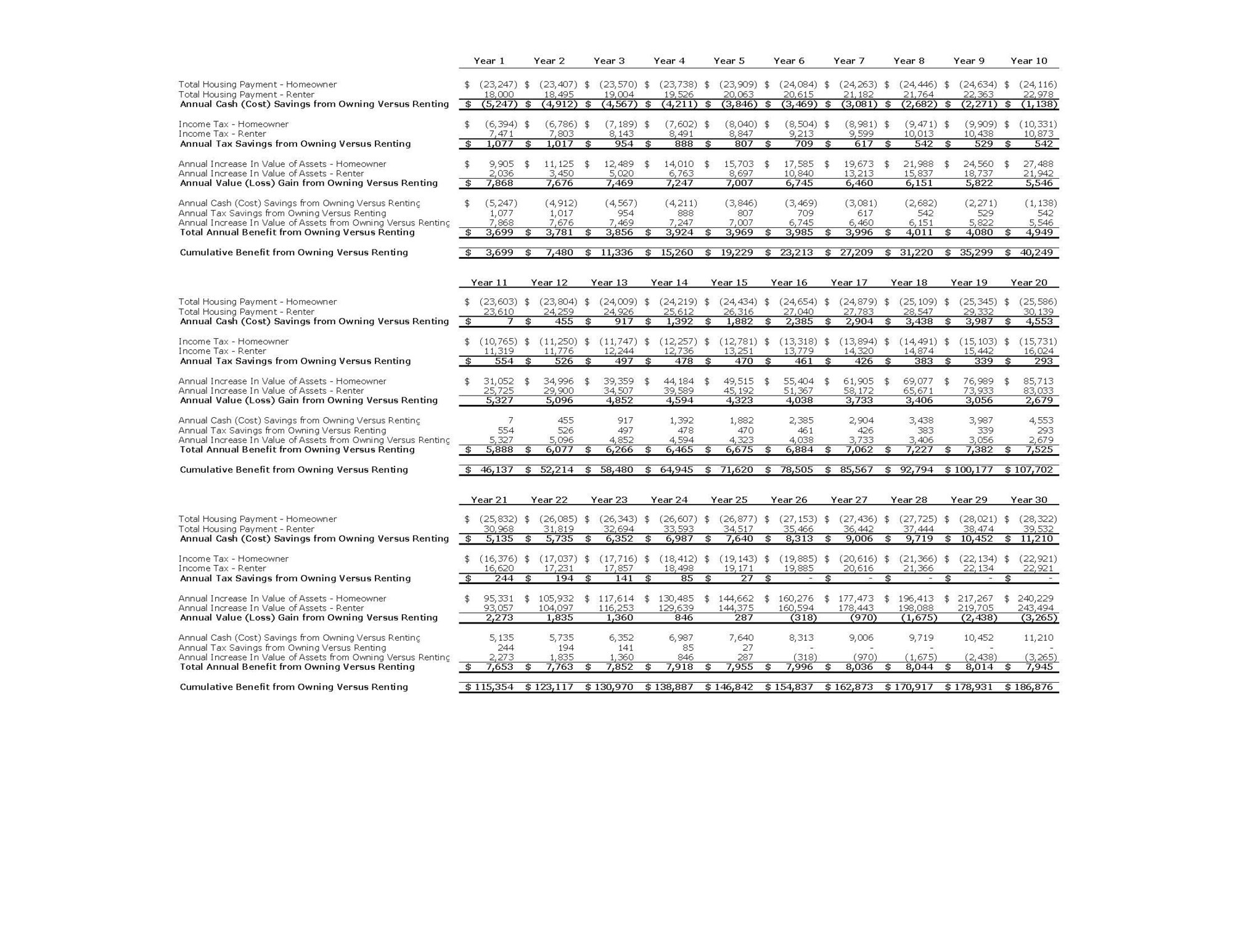 In this example, the benefit from asset appreciation for the homeowner starts to fall below that of the non-homeowner in years 26-30. This will be made up for after year 30 when the mortgage is paid off. The result? The homeowner's housing payments drastically decreased. Keep in mind this is an estimate, using basic assumptions to simplify a real-life scenario.
While the numbers might show it's worth it to buy real estate, the real take-home here is to decide what's best for your situation.
Navigating the roads of home buying isn't always simple, but the suggestions outlined above can make the journey smoother for you.
Written by Rachel Lurya
Just the thought of moving can make people stressed and tired before even lifting a box. It's hard, daunting, and complicated whether you're moving for the first time or have moved before.
This ultimate and complete moving guide can help not only reduce the stress and hassle, but help to ensure your move goes smoothly from beginning to end.
Each chapter is filled with links to hand-picked posts that are filled with tips and tricks to help make your move easier.
It's time to take the first step to your new home.
Table of Contents
Rather than making you scroll through the page for ages or sending you to other parts of the site, it is all right here. Click on the chapter titles and it will take you directly to your chapter. No need to wait for the page to refresh, just begin reading.
Chapter 1: How to Know Your Needs for Your New Home
Chapter 2: How Knowing All Your Home Options Can Make You Happier with Your Home
Chapter 3: Why It's to Your Benefit to Know These Buying Tips
Chapter 4: How to Keep Any Renovation Costs Low with Some Simple Tips
Chapter 5: Why Good Movers Can Make All the Difference in a Successful Move
Chapter 6: How to Make Packing Easier with Tips, Tricks, and Hacks
Chapter 7: How to Make Moving Day Less Stressful for Everyone Involved
Bonus Chapter: Getting to the Orange County, California Community
Chapter 1: How to Know Your Needs for Your New Home
The first and most crucial step before choosing a new home is to know what you want in your new home. Knowing what you want will help you be happier with your new home rather regret it or feel like you could've had more.
Who will be living in the house? How many people?
Will my family be growing or will I have guests?
Do I already have any pets or plan on getting any?
Do I want a house that needs little to no renovations or am I okay doing some fixing and updating?
Do I need air conditioning or heating?
How many bedrooms do I need?
How many bathrooms?
Updated kitchen? Or a kitchen big enough to cook for myself or others?
These are just some of the many questions you need to ask yourself before you buy or rent anything. Your needs are important. Don't push them to the wayside because one place is a better deal than another. A better deal doesn't always mean it'll pay off in the long run.
Now let's think about the area around your house. This is just as important as the house itself.
You won't be spending all day in your home. You will have to take the trash out, get your mail, maybe do some yard work here and there. So, ask yourself some of these questions.
How far am I from my work? Will I need to walk, bike, drive, or use public transportation?
Do I want neighbors? How close will they be?
Do I want a yard or a garage?
Am I going to live in an urban, suburban, or rural area?
If you want to go out, how close are you to restaurants, bars, or other places?
Do I want a lot of noise from the outside or do I want it to be quiet?
Just like before when thinking of the interior, these are just some example questions you need to ask yourself.
To some knowing the area you want to live in might be hard to determine because you're not quite familiar with the differences between an urban, suburban, and rural areas?
Though there will be some overlap and grey areas transitioning from one area to another.
In more urban areas to live in you can expect that you will most likely own or rent a smaller space than something in a rural area. Urban areas are almost always in cities where all the life is. Bars, clubs, restaurants, all of it. The best part is it is all within walking distance or a quick taxi ride.
The downside is you are in the city. There will be noise and your home might have a wall or two shared with neighbors. Noise from the outside and your neighbors will find its way into your home and you should think about if you're willing to put up with that. Urban areas also tend to be highly populated so there may be heavy foot traffic or car traffic during certain times of the day.
Suburban areas are somewhat like urban living with the fact that you will be kind of close to your neighbors. In suburban areas, there may be a hedge or a patch of grass to separate your home from your neighbors rather than wall. You most likely own your own place and have the nice luxury of a neighborhood with much less foot traffic than the urban areas. Unlike the urban areas you will have a yard, a little piece of land to call your own.
Don't forget the downsides though. In urban areas, a lot of things are taking care of for you. Leaf removal is up to the city or landlord. No need to worry about maintenance in urban areas if you have a landlord. In suburban areas, you oversee leaves or weeding the garden on your own. You are much more responsible for your home than in urban areas.
All this information you just received may seem overwhelming to a new homebuyer or even an experienced one. You think to yourself you don't want to make a mistake in picking where you want to live, but don't forget there is always something for anyone.
You don't need rigid plans and wants for what you want for the interior of your home. The more flexible with your wants, without completely disregarding them, will allow a realtor to help you more. Sure, you may have to compromise on your dream kitchen, but you get your own home office. Or maybe you need to replace a thing or two to make it what you dreamed of.
Also, don't forget the world isn't black or white. Urban and suburban areas are not always clear cut. There is gray area and transitional areas between the three. Maybe you don't quite fit into one of the three, but that is okay! Everyone has unique needs and wants.
What is important to know is that you have a plan now. You know what you want and need so when you work with a realtor they can help make your home dreams real.
Look for more home buying tips below.
Chapter 2: How Knowing All Your Home Options Can Make You Happier with Your Home
In the previous chapter, you learned how to think about your needs for your home. Now you have some stuff lined up and decided.
It's now time to think about your home. Do you want an apartment, condo, townhouse, or house? These are the four most common options when it comes to realty.
Each have their own advantages and disadvantages. Some will be able to suit your needs better than another. Look at the list and notes you made about your needs and keep them in mind.
So, the real question many homebuyers ask themselves are what's the difference between all these home buying options?
Well to make it clear and easy to understand without much confusion below is listed each option and their own advantages and disadvantages of the apartment, condo, townhouse, and house.
Tip: you can click on the name of which one you want to read about instead of scrolling!
Apartment
Apartments are most likely to be found in urban areas and some densely populated suburban areas. They hold their own advantages and disadvantages and how to take these are dependent on your own preferences for your new home.
Advantages: One of the biggest advantages of apartments is the fact of where they are typically found. Being in cities means that you're in a suitable location for convenience and a great social life. You will be in walking distances of places and may be able to walk to work. This means you'll be saving on gas and other transportation costs that would normally come with other places.
Not only that, but the apartment complex you choose may have some extra amenities. This can include a pool, a gym, laundry rooms, security monitoring. Sure, that can be part of a condo, townhouse, or a house, but this is usually at your expense of providing the equipment for what you want. A home gym will cost a good bit and a pool even more so those extra amenities may be nice for someone who doesn't want the hassle of building or installing something like that.
Some apartments may be more secure than your other options. Many current apartment complexes have levels of security to get to your own apartment. From the door on the outside of the building to doors to each floor. It allows for better security and safety of yourself and your belongings. Plus, you won't need to pay for home security like you would a house or condo.
Maintenance is also easier. When you live in an apartment complex much of the care of the building and surrounding land is taken care of by the landlord. You as the tenant only worry about your belongings. If an appliance stops working or needs to be replaces the landlord will handle the issue with having you pay for the repairs or replacement.
Apartments are a small option for many, but the size isn't always a bad thing. Apartments are small spaces that don't require as much heating or air conditioning as a house or something bigger. Electricity is much more controlled if you're the only one using it and so is water. So, your monthly utilities bill will be lower compared to a condo, townhouse, or house. Most apartment complexes also only charge you a small fee for additional services like maintenance of the building and lawn. Though it may be worth paying if you're not the one doing the work.
Disadvantages: As lovely the advantages of an apartment can quickly sound appealing it's important to know the disadvantages too.
That benefit of an apartment being small is a double-edged sword. You are restricted as to what you can do. The room you have when you rent or buy it is what you get. You can't have more room or less room. So, you need to be able to make do with what you are given and think about how much you have.
If you are renting the apartment that means it's not entirely yours. In the end, it belongs to the landlord and they may have rules as to what you can and can't have. What you can and can't do and any modifications you may want to make may have to go through them.
Your neighbors may also become a nuisance to you. Unlike your other home buying options an apartment will share a wall or two with neighbors. Noise will travel through the walls and any noisy neighbors may drive you up the wall if you like silence. So, keep that in mind when looking around. If noise doesn't bother you then maybe you don't have much to worry about.
Maybe noise won't get to you, but maybe the confines of an apartment might. The area outside of your apartment doesn't belong to you. You might be competing with neighbors and other tenants for prime parking spots. Maybe you'll want to do a little gardening, but you can't because you only have your apartment. So, your outdoor space may be limited or nonexistent.
If you have or plan on getting any pets they may not be allowed in some apartment complexes. That can throw a rock into your plan because that perfect apartment that's two minutes from work may be thrown out the window. Look at the pet policy of apartment complexes before you get too attached to it.
Overall, apartments are great for small families or single people. They allow you to have your own space that only you must worry about.
If your list of needs seems to fit the apartment home option than start looking for apartments. If not, then keep reading on to other home options.
Below is a link to more advantages and disadvantages when living in an apartment.
Advantages and Disadvantages of Living in an Apartment | Impressive Interior Design
Condo
Unlike most apartments, with a condo you own it. No need to worry about a landlord or reporting to someone else. The place is yours and you still might get some of the luxuries that come with apartments.
Advantages: Just like the apartment, condos are minimal maintenance. You pay for your home and most likely some extra fees for the upkeep of the building and surrounding area, but you don't have to do building cleaning and maintenance so it's worth it.
It is found that condos may be a cheaper option compared to a townhouse or apartment. Don't be fooled by the thought that renting is cheaper in the long run. If you plan to live in your condo for a long time then you may save money. You will be making payments to own it that relatively fixed unlike renting where it can shift unexpectedly.
Condos are also the happy medium of houses and apartments. They give you the convenience and location of an apartment and the pride and ownership of a house. Not only that, but since your neighbors should take care of their place just like you, condos do tend to look and run nicer.
Disadvantages: The condo is very similar to the apartment in many ways and that means you will face some of the same disadvantages.
Condos are a fixed size like apartments. There is no expanding beyond the walls. You are restricted on storage and space which may hold some people back from what they want.
Those extra amenities that come with condo complexes can cost you extra. If it's one building with many condos in it than gyms, pool, and other potential amenities of the place may cost you money.
Since condos are individually owned there is typically an overarching association, or HOA, that will oversee all condos. The association may restrict pet ownership, what types of changes can be made to condo such as renovations, and they may limit your options for service providers such as cable and internet. This can make you feel like you have a lack of freedom in your choices.
Don't let surprise fees catch you off guard. Apartments may have maintenance and management fees covered in the rent without any extra cost to you. But condos can charge those services separately. Since condo complexes are run by a group or association many choices are left to vote and some decisions may not be in your favor. This can lead to a sudden increase in service fees or have large projects, major repairs, or renovations happen with money out of tenants' pockets.
In the end, maybe the decision is up to. To some the sound of ownership sounds amazing while others want the easy rent without much worry. Then there is some this option still isn't right for them. Continue reading to keep learning about the last two options.
If you need more information check the link below about living in a condo.
Condo Living Advantages and Disadvantages | HOA Management
Townhouse
A townhouse is a wonderful place to live for homebuyers, old and new. They offer the middle ground between a family home and a condo. You get more room than a condo, but less maintenance than a standalone house. Look at their own advantages and disadvantages.
Advantages: Just like the condos and apartments, townhouses can be found in suburban and urban areas. Unlike the condos and townhouses though, townhouses offer a bit more.
Rather than owning a single floor home like the condo, a townhouse will most likely have multiple floors. Not only that, but rather than a door in a hall that leads to your home, a townhouse has the front like a house with a walkway to your front door from the outside.
Townhouses also offer some yard to them. You may get a small front yard and backyard depending on the townhouses you look at.
Disadvantages: Just like the previous two, you might be sharing a wall with your neighbors. This means potential noise pollution that finds its way into your home.
Townhouses are normally part of their HOA also. Like previously stated, the HOA can control major changes and renovations of your development and they may control the exterior look of the townhouse. The HOA isn't all bad because it may help to cover shared costs of the townhouse development including maintenance and shared areas, but you will have to accept losing some control of how your area looks.
Another disadvantage of the townhouse is that it is like a house financially. This means you will need to obtain mortgage financing and some lenders will have difficulty correctly classifying and appraising your townhouse.
The only tricky thing with townhouses is that they can be a bit ambiguous in definition when house hunting. Some places classify them as condos while other townhouses maybe be standalone from your neighbors giving the appearance more of a house.
If you move to a townhouse where your townhouse may be classified as condo then lenders will be able to have higher costs for your home. The best way to avoid having to pay more than you need or supposed to is to look at your area. If you are moving to a place with a lot of townhouses then find a lender who has experience in that area.
Before buying a townhouse it is best to ask as many questions as possible. A great resource for better understanding townhouses is linked below.
Advantages and Disadvantages of Buying a Townhouse | Smart Asset
House
Many people at some point want to own a house at some point. It is finally a place to call your own without any restrictions put on you from a landlord, HOA, or some other group. Though it will have its advantages and disadvantages like everything.
Advantages: One of the biggest advantages of a house is the privacy. You have much more privacy than any of the other options. You won't be sharing your walls with neighbors or have to worry about someone hearing you. The added privacy with houses is a great appeal.
Houses also come with yards that allow you to pursue your hobbies whether it be gardening, woodworking, fixing up a car, and so much more. You have the room to expand and add things that you see fit to your property.
No more do you have to compete for parking spots or walk through the rain because with a house you have your own private driveway and garage if the house comes with one.
Houses aren't just a home option. They can also be a financial investment. Land value is always up and down, but if your land is yours then you may choose to do what you want with it. You have the choice to keep it or sell it when land value is high.
Houses normally increase in value the longer you stay there and you can build equity for the future. Your costs of your home are also predictable and much more stable than renting or buying a place under an association where you pay shared fees with other tenants. This is all because a house is based on a fixed-rate mortgage.
Speaking of mortgage payments, the interest and property tax that is part of the mortgage is considered a tax deduction.
Most of all, owning a house gives someone a sense of pride. You care and keep up with upkeep of your home because you want it to look nice to people around you. You also form relationships with your community because with a house you're most likely looking a while into the future.
Disadvantages: A big disadvantage and can scare many people, especially in 2017, is that house is a long-term commitment. It's not like an apartment where you pay monthly rent and if you need to move you can right on the spot. Houses will create somewhat of a paper trail that can be daunting to people.
Another thing is the fact all costs and expenses of owning a house are on you, the owner. Any lawncare you choose, plumbing, electric, replacing appliances. It will all have to be paid for you by you.
Now that you have mortgage payments, they may give you a tax deduction, but the payments are typically higher than rent payments.
You will also need money for closing costs and your moving expenses. You may need money for renovations of the home or need to buy more furniture to fill the rooms in your new home. These costs can add up and make it seem more expensive than it is worth.
At first your home value won't increase. It most likely will not increase for a couple years after closing the deal. So, a house is a commitment.
More information on the pros and cons of home owning.
The Pros and Cons of Owning Your Own Home | Dummies
Before you jump ship on the idea of house, don't forget that a house is a home. All of the home buying options are meant to be a home. So, to make yourself happier know your options and know what you're getting yourself into before you pay anything. Don't be afraid to ask questions and have things looked in to.
In the following chapter, you will learn buying tips that encompass all your home buying options. Keep reading on if you feel like you know what you want in your home, where you want to live, and what home buying options you want.
Below are more resources comparing home buying options.
Chapter 3: Why It's to Your Benefit to Know These Buying Tips
Buying or renting can get confusing and difficult. Especially if you're new to it. There are words that you might not recognize, lots of different numbers and percentages, and before you know it you're signing something you don't fully understand.
To help eliminate some confusion and make you feel more confident in what you want and what you're doing, check out some buying tips.
The best place to start when you're starting to look at places is to set a budget for yourself. When you have a budget you're more likely to stay within it and you won't drain your savings account. Having a budget also helps to make sure you will be able to afford your monthly bill whether it's rent, utilities, or mortgages. You don't want to get caught in scraping by every month to pay your bills with little to no wiggle room with your monthly budget.
Another great tip is to make sure all these numbers you're seeing are clear to you as the buyer. Some people may take advantage of the fact you aren't looking too closely at the numbers and can slip extra fees and charges into your bill without you knowing. Know how much you're paying in rent. Know how much you'll be paying in mortgage payments. Research your utilities and how much they will cost you. If it becomes confusing ask questions until it is clear to you.
Don't forget about your other expenses. While at first it might make sense to set a budget for your home, but you will be paying for your home monthly and you don't want your whole paycheck to go to that. Consider the cost of groceries, gas, leisure money, and any other costs you foresee.
Make sure you know you're credit score so you're not in for any surprises. Landlords, realtors, and lenders will want to know your credit score. The better your credit score the better it will be for you to get your home. Especially if you're considering buying a house because it will put you in a better standing with lenders compared to those with a poor credit score.
Another tip is don't go too big. Contrary to the popular saying bigger is better, that's not always the case. Big homes typically appeal to a small group of buyers. It may not make sense now, but if you decide to move later in your life it will make it harder for you to move because no one is looking at your house. Not only that bigger homes cost more to maintain. From heating, air conditioning, and utilities to keeping them clean and kept up.
A great tip many people don't know about and do is get the home or apartment inspected. Just like when you buy a car you want to know what you're getting. You have the engine checked, tires are good, and nothing is on the verge of breaking. Why do you do this? You want your car to be safe. A house or apartment should be treated no differently.
Hire a home inspector before you buy or rent something. A home inspector with a good reputation will tell you all the details you need to know about your home. They will be able to inform you about any issues or things that they feel you should know about. Their opinion will be like an unbiased third-party opinion that can help you make your decision or use to get a lower price on a place.
This might sound odd to some people, but take a look around the neighborhood. Drive by at different hours of the day and days of the week. Maybe take a test drive from your potential new home to your work at the time you would typically be going to know what your commute will be like. Make mental notes of how far the grocery store is, the doctor, a hospital, pharmacy, and anything else. If you have kids look at schools. If you don't have kids look anyway because if you do choose to have them, you want the best education for them in safe and clean environment.
Maybe not all of these tips apply to everyone, but you can always modify them so they are more tailored to you.
Up to this point through the guidebook you have: picked out your needs, you know what kind of area you want to live in, you chose your home buying option, and you have hopefully narrowed it down to some choices. The ideal number of places you should be choosing between in the end is 5 then narrowed down to 3 and lastly down to the final choice.
In the following chapter, you will learn about home renovations, if you need to do any to your new home. If renovations don't really apply to you then there will be links to some easy DIY projects for your home. Keep reading on below!
These are only a few of the home buying tips. Check out some of the resources below to learn about other home buying tips.
If you're moving to anywhere in Orange County take a look at these highly rated home inspectors of the area.
Chapter 4: How to Keep Any Renovation Costs Low with Some Simple Tips
At this point you have your new home picked out. It hopefully most if not all your needs. It's in the perfect area for you or you and your family.
Maybe during your walk through of your new home, you made some mental notes of what renovations you might need to do. Whether it's replacing some appliances, repainting a room to a different color, or redoing a room or two or more.
Renovation costs can add up quickly and before you know it you spent more than you initially wanted to. To keep your renovation costs low and have an amazing product, take a look at the renovation tips below.
It may seem contradictory to title of this chapter since you're trying to keep costs low, but one thing you don't want to skimp on is materials. The saying "you're going to get what you pay for" reigns true in this case. Cheaper materials may seem like a promising idea at first, but down the line you'll be right back to renovating it and spending even more on materials. Save your time and hard-earned money by taking the money to spend on good materials. And if you can't afford it now and this isn't a necessary renovation then put money away for this project later.
Measure twice, cut once. It's the saying of may carpenters and contractors. If you don't measure it correctly the first time then you may have to start over and need to go out and buy more materials. You don't want to do that. Make sure your dimensions for whatever you're building are correct. If you're replacing or updating a door frame then dimensions are important. You don't want an asymmetrical door frame or a frame that is too big or small for your door. So, make sure you're measuring correctly and down to the smallest increment you can. A half an inch can make a significant difference.
Just like before you cut anything, you want to do the initial prep work. You don't want eyeball things even if you're confident you can't do it wrong. Prep is important. It'll save you time and money in the long run and afterwards you have a nicer final product that you can take pride in.
If you're doing a whole room this can be costly, but it can be even more costly if you don't have a plan. Many people make the mistake when it comes to redoing a room is to completely strip the room. Decide where to start and each step after. When you have a plan, you have more control of the situation. You can better visualize where material is going and how much any surprise changes or additions you want to make can be accounted for in your renovation budget.
If you choose to repaint a room you come to find that paint isn't cheap. When you have to do multiple coats then the paint costs start to add up and eat away at your budget. But we all know that your paint job won't last forever. When you're moving furniture back into the room you might nick the wall or a couple months later you notice some chipping in the paint or you missed a spot. Nothing will upset you more than when you go to get the old paint out it's dried or separated. To avoid paying for more paint later on for touchups store your paint and any other materials correctly. They will last longer and you won't need to spend money replacing improperly stored materials.
Another renovation tips is if you decide to go on the route of a contractor. Contractors are great because they take hassle away of having to do the renovations yourself. But be cautious. Be sure to read reviews of different contractors in your area to know the person you'll be paying will do an excellent job for a good deal and won't be spending months on a project that could take a few weeks.
Here are some contractors that are well reviewed in Orange County.
If you want to know more about renovating and remodeling and how to save money while doing it, click on the links below to learn more.
Chapter 5: Why Good Movers Can Make All the Difference in a Successful Move
By this point in the guide you have most likely made it official which home you have chosen. Papers have been signed and payments are in place. Now it is time for the part most people dread most, moving.
It's not easy packing up all your belongings and deciding what's worth going and what might have to stay behind. Then packing it all into a truck can be just as stressful. You might be asking friends or family to come help you move. Not everyone will be able to help and some people might try to get out of it no matter how close you are because well…nobody likes moving even if they're not the ones moving.
That is why moving companies exist. They provide the manpower to move boxes from your old home to the truck and from the truck to your new home. They also will help moving the boxes from the truck into your new home.
But, you don't want any just movers. You want ones that have a good reputation who are known to be helpful, efficient, and well-priced. These are the people that are handling your belongings from old home to new home so you don't want anything less than the best.
The best way to start choosing movers is check out reviews and get recommendations by word of mouth. Nothing is more reliable than people's opinions in this case. A company can talk about their prices and services, but it's the reviews of the people that matter.
Search for moving companies in your local phone book, online, and advertisements. In this day in age a simple Google search can return thousands of results of moving companies near you.
Once you have found some moving companies that seem to fit what you want you want to do your research about them. Use Business Bureau (bbb.org) to check out your potential moving company is accredited by them. It'll help to make sure you won't be scammed or lose money.
Next you want to check out their pricing. Moving price estimates aren't really something that can be done online. You may think one thing about how much stuff you have to move and the company might think something else. Rather than be surprised if the bill is more than you thought have a person at the moving company come out and give you an in-person price estimate.
Not only do you get a more accurate estimate, but the way they go about making their estimate can give you an idea about their company. If the estimator takes quick glances or doesn't seem to focus on what they're doing that should raise a few eyebrows. Estimators, if the come from a reputable company, will look at things in detail to give you the correct estimate.
Also, don't take just one moving companies word for how much it'll cost. Have a few companies in mind and have each one come out and give you an estimate. You might find one has a better price than the other or one might cost a little more, but they have much better service. The decision is up to you, but don't get caught in one option.
One of the best resources you can check out is from Real Simple. They go over the steps on how to hire mover. They don't just talk about picking a mover, but how to know you're getting a fair price estimate from a trusted moving company. Link Below!
12 Steps to Hiring a Mover | Real Simple
Movers can sometimes be a risky move if you don't do it right. You don't want to pack a truck full of your belongings only to find things missing or worse, the truck never shows up! Below are sites filled with tips to hiring the right moving company to go along with the steps on how to find a moving company.
Tips include…
Another great resource of backed moving companies in Orange County can be found below.
Chapter 6: How to Make Packing Easier with Tips, Tricks, and Hacks
You've picked your home. You've picked your movers and now it's time to start packing up boxes of your belongings.
When most people start packing boxes, they go room by room and fill boxes. When one box is full they grab an empty one and continue tossing stuff in boxes. That may be quick, but when it comes to unpacking it might be a headache. Things aren't organized and when you're unpacking in a sea of boxes it can be daunting to know what goes where.
Instead use these tips, tricks, and hacks to help packing and unpacking less stressful.
Food is one thing many people can forget. You're used to keep your fridge and pantry stocked and when it gets low you refill it. Well when you move it might not be that easy. The last thing you want to worry about is food when it comes to moving day.
To avoid wasting food that's still good or throwing away money from uneaten groceries take a quick inventory of what you do have. Plan out your meals two or three weeks ahead that won't create much leftovers and use up what you have around the house without having to do the weekly big grocery haul. Instead you'll be buying groceries that complete your planned-out meals.
Another thing before you pop off to the store to buy boxes try stopping by local shops. Your local grocery store and businesses that receive shipments might have some extra boxes or boxes that are being tossed in the trash. You're not going to be displaying these boxes so why spend the money on brand new ones when you can get ones for free. Plus, you help reduce waste by reusing old boxes.
As you pack your boxes up you can get a sharpie and label them. You can write what is in them if it helps you later, but the best tip is to write what room they're meant to go in! When you get to your new place the first thing you can do is move each box to their correct room and unpack rooms one by one without racing from one end of your home to another. Be sure to write what room on the top, bottom, and sides so no matter what angle you or some helping you move can see easily. If writing might be missed than try some colorful tape for color corresponding rooms.
If you need to dissemble any furniture you have in your home to save room in the truck can be a disaster later if you don't do it right. To start have a Ziploc bag to place screws, bolts, and anything else that corresponds to that piece of furniture. If it's a more complicated built piece of furniture take pictures with your phone of what screws go where and what pieces fit with what to save frustration later. Once it's all deconstructed label the bag with what piece of furniture it goes to. It might help to have a small box full of furniture hardware so later all you need to do is reach in and grab the correct bag.
Another great tip is for clothes, pillows, towels, and bedding is to use giant Ziploc bags that are made to have the air sucked out of them. It may not seem like it, but things like clothes and bedding take up a lot of room after a while. Why? It's all that air that gets stuck in there so if you suck all the air out with vacuum then you have yourself packed away clothes, towels, and bedding that take up less than half the room they originally did!
Do you have a lot of electronics in your house? All of those wires and how to wire them back can get confusing. Make it easier on yourself or whoever is plugging everything back in by taking a picture. Get behind your computer or TV and snap a picture of the back. Then you know what wire goes where without having to guess, making you more and more frustrated.
Last great tip that is so simple it's amazing that many people don't do this! Before you put anything in the boxes, cut handles into them. All you need to do is a cut an oval or a rectangle, but not all the way around. Leave the top of the shape uncut so all you have to do is fold it up and into the box. It'll make it easier to hold later rather than have cardboard cutting into your hand.
Check out other great moving tips, tricks, and hacks below!
Chapter 7: How to Make Moving Day Less Stressful for Everyone Involved
The big day has come. It's moving day!
The fridge and freezer have been cleaned out, you're doing the last sweeps of room to make sure nothing gets left behind and all that is left is moving boxes from inside your old home into a moving truck or your car.
You most likely aren't doing this job alone. You probably have friends and family helping you or some movers coming to move boxes to their truck. It can get stressful between making sure everything gets packed, nobody breaks anything, and keeping track of what is going where. It's a lot for someone so here are way to make your moving day less stressful.
Just like every chapter before that you have read and learned, a game plan is a must. This keeps your organized and makes sure everything stays on track. No one will be left standing around wondering what to do if you have a game plan.
You can't control the weather so don't forget about it! Check the forecast for the day. If you're lucky it'll be clear outside with no rain. If you're not so fortunate then you might be rushing to move boxes from the house to the car without them getting soaked. You don't want to be stuck moving things in rain so if it looks like it's going to be bad weather to move on where it's not safe or comfortable for your friends, family, or movers then you may need to change your moving day date.
Another great thing to do is keep a small basket of snacks out for people. Have granola bars, protein bars, pieces of fruit, and anything else that's enough to give someone a quick boost of energy. You'll hear less complaining when people start asking when is it time to eat.
One big stress creator on moving day is time. Time isn't infinite and sometimes it might feel like you're pressed for time as you move. To help reduce the time stress take the time to account for time in your game plan. Plan out how much time a certain task should take. What really helps is to start early!
Things happen. Maybe someone doesn't show up or the movers are late. Whatever it is, it's safe to bet you didn't account for it in your game plan. Instead of spiraling into a panic of what to do because there's a bump in the road, work with what happened. If the movers are late, try to move boxes closer to the door so all they need to do is walk in, grab a box, and go. If someone is missing try to account for the extra time it might take now to move boxes.
Maybe you got distracted in getting all your last-minute stuff packed. Make the end of moving day better and have an overnight bag. Have a change of clothes, toiletries, toothbrush, and whatever else you normally would pack. It makes this kind of stuff easily accessible when you need it when you get to your destination rather than rummaging through boxes to find the toothpaste. If you are moving with a family then make sure they have a bag too.
No one can predict the future so you can't predict exactly what will happen on your moving day. Things most likely will go wrong! People don't show up, moving is taking longer than you expected, the movers are late. Whatever it is it'll get stressful.
So, don't disregard the amazing ways to make moving day less stressful. There are more to follow with the amazing resources found below.
You've done it! You have completed the guide and hopefully you feel more confident in your moving skills. You now know how to know your need, how to pick your home and its location, choosing your movers, packing with tips and tricks, and lastly you know how to make your moving day less stressful.
Since this guidebook is best catered to the Orange County, California area there is a bonus chapter included about Orange County. Check it out just below!
Bonus Chapter: Getting to the Orange County, California Community
Congratulations on your move to Orange County! Hopefully the guidebook has really helped you in your entire moving process. Here you will find amazing links about Orange County. Life in Orange County is like no other and you can find unique, fun things to do wherever you go. Check out all the amazing things Orange County can offer to you.
Orange County is famous for so many places and things to do.  Disneyland, Knott's Berry Farm, Disney California Adventure, and so much more.  These destinations are great for visitors to Orange County or new residents to the area.
 
But have you ever thought of getting off the main road of Orange County tourism and checking out some of their hidden gems and secret spots.  From secret outdoor spots like beaches and parks to hidden shops and restaurants Orange County has it all.
 
So if you're a long-time resident of Orange County looking for a change, a tourist who isn't afraid to go on the unexplored path, or just looking for new destinations to explore then keep on reading.  There's something for everyone.
Register to receive a copy of our Orange County white paper for information and insights into the current real estate market.
1. Victoria Beach
Location: Laguna Beach, CA
Victoria Beach is the first destination that is hidden away from the general tourist population. It is usually occupied by locals who love the blue water and the seclusion from the chaos of the busy beaches.

This beach is one of the more secluded beaches of Southern California making it a great place for any explorer. You will find people doing a variety of activities while on the beach from skim boarding, swimming, fishing, and playing beach sports.
Victoria Beach is also home to a famous stone structure called the 'Pirate Tower', but you can learn more about that later.

As for the Beach it's a beautiful place for anyone that is willing to make a small trek down some stairs to the beach. Unlike the popular beaches, Victoria Beach is only accessible from the stairs since you park up higher, but many locals and others say the stairs are worth it for the amazing views and the sunsets.
2. Pirate Tower

Location: 2713 Victoria Drive, Laguna Beach, CA 92651

Pirate Tower is located right on Victoria Beach. The tower shoots up to 60 feet high and was built in 1926.

It is more than a spectacle for visitors to Victoria Beach. The tower serves as a enclosed staircase to a private cliff-top home. Some owners of the home have been William E. Brown, a California state senator, Naval officer Harold Kendrick, and Bette Midler.

Many people love to come to see the Pirate Tower. It makes for an excellent feature piece of photographs. They say it is worth the drive or the walk down the stairs to see it.

Though unless you knew about this little feature of Victoria Beach you could probably end up missing it.
3. The LAB (Anti-Mall)

Location: 2930 Bristol St., Costa Mesa, CA 92626

This isn't your typical shopping mall. The LAB or as some call it the Antimall is a secluded and easy to miss hidden gem of Orange County.

To a passerby or a quick glance you'd think behind some trees it was nothing more than an industrial park. If you look further though you'll find yourself in something way different.

In order to get access to the "mall" you walk through a small, shaded pathway that opens up into a marketplace.

The market is filled with little boutique shops, restaurants, and art such as live music, art galleries, poetry readings, and sometimes seasonal festivals.

An eye catching and worth seeing feature of the LAB is the one art gallery called ARTery. Unlike other art galleries that are normally in buildings or shop fronts, ARTery is a gallery that displays artists' works in a shipping the container. If you don't have a thing against small places be sure to check it out because the container is only 8 feet wide.

The best part of this hidden gem is that all the shops and restaurants are locally owned giving it a true local experience.
4. Marina Park
Location: 1600 W Balboa Blvd., Newport Beach, CA 92663
Marina Park is a wonderful place for families. Unlike most parks, or beaches for that matter, Marina Park offers a safe and memorable experience for children while on the lovely Newport Beach Harbor.
For parents and kids alike swimming in the ocean while wonderful sometimes poses some challenges. A few examples might be that the water may be rough that day, you could have a strong undercurrent or if you are like my wife and are afraid of "sea monsters". Well at Marina Park you don't have to worry. Swimming in the calm waters of the harbor perfect for little ones. Little to no waves, plenty of boats to look at driving by and if your kids prefer to run around and play rather than swim, Marina Park has a gorgeous playground for young ones. They can run, jump, climb, and slide on all the playground equipment including their very own light house.
Even if you don't have kids take the time to visit. Nothing is more fun and picture perfect than letting your inner child come out as you play and take pictures on the park's playground.
Many people love to travel to Marina Park because it's a clean, safe park in an amazing location. There are also picnic tables available for a day out or you can sit and look out at the boats in the water.
Regardless of your age or family size Marina Park is one of those hidden gems of Newport Beach that you cannot pass up seeing. If you want to purchase a home on Balboa Peninsula in Newport Beach reach out to David Feldberg today!
5. Great Park Balloon

Location: Marine Way and Sand Canyon, Irvine, CA 92618

Great Park Balloon is more than a hot air balloon. Unlike most hot air balloons that carry 2-3 people, this hot air balloon ride is meant for 25-30 people at once!

The ride itself isn't very long only lasting 25 minutes, but you get a great view. The balloon lifts to a height of 400 feet giving you and everyone else a 360 degree of the world around you. People say you can see for miles and on clear days all the way to downtown Los Angeles.

Don't worry though. This massive balloon ride isn't free to the breeze. The entire time it is attached to rope that is locked to the ground. No worries about floating away for longer than you expected.

Whether you want to do it for some great pictures or to just say you did it, be sure to check out this hidden gem on your next trip. If you are thinking of purchasing a home in Irvine, CA contact David Feldberg today!
6. Carbon Canyon Regional Park

Location: 4442 Carbon Canyon Road, Brea, CA 92823

Redwood trees are a famous staple for tourists and many others when they think of California. These massive trees that shoot out of the ground to reach unthinkable heights. It's almost unreal.

The best part of Carbon Canyon Regional Park is that they bring the amazing redwoods to Southern California rather than them being concentrated up north.

The Coastal Redwoods of Carbon Canyon can get as high as 100 feet and to experience it there is 1.1-mile-long nature trail in the park.

The best part is that the trail is great for all ages. It's not too long, but not too short and you can get some amazing pictures in this mini redwood forest.
7. The Blind Rabbit

Location: 440 S Anaheim Blvd., Ste 104, Anaheim, CA 92805

Taking a step away from exploring nature and doing adventures, don't forget to stop by The Blind Rabbit. A great destination for any food or drink lover over the age of 21.

The Blind Rabbit can be hard to spot if you don't know about it. It is tucked away in the Anaheim Packing District. Once you do find it you'll find yourself thrown back to the time of speakeasys.

Filled with a great atmosphere and unique decor any customer will find themselves having an amazing experience here. By the words of past customers, the place has great food, great drinks, and great service.

If you do plan to stop by this little speakeasy be sure to call ahead. They do require reservations, but if you can only do the spontaneous stop in then between the hours of 2-4 it is first come first serve seating. Any time after will need a reservation.

Really don't let that stop you from checking out a great place to eat and get a drink.
8. The Wedge
Location: E Ocean Front, Newport Beach, CA 92663
The Wedge is a known spot of Orange County locals and surfers around the world. This hidden gem sits at the furthest tip of the Balboa peninsula and the views here are breathtaking.
Surrounding the Wedge are multimillion dollar beach homes that are more like beach cottages. Rocks scatter the shoreline and boats travel through the waters.
As for what make this place a worthwhile visit is the the waves basically break on the sand and they are BIG! When a large swell is coming in you can see 15-30 foot waves break 25 feet in front of you with world class surfers trying to catch a wave. Its not uncommon during a large swell to see 200-300 people just sitting on the sand watching the waves crash.
The Wedge is a hidden gem of Orange County. You can sit and watch the sunset or enjoy a picnic. You can take a long the sandy beach and jump along the rocks dotted about. You can take the time to take photos of the surrounding landscape or of you on your Orange County adventure. There is endless options as to what you can do here.
So while you're in Newport Beach take the drive down the Balboa Peninsula to the Wedge.
9. Juliette Kitchen and Bar

Location: 1000 Bristol Street N, Ste 11, Newport Beach, CA 92660

Another hidden gem of a restaurant in Orange County. Juliette Kitchen and Bar has become a popular place for lunch and happy hour to the Newport Beach area.

Many people come for the delicious food and drinks while receiving great service from staff. The dishes are unique and compliment the amazing decor of Juliette Kitchen and Bar.

What makes it a great hidden gem is that it's not well known to people other than locals. So unless you knew a local, overheard someone, or found this place online you could end up missing it.

Be sure to call ahead to place your reservation and dine in a hidden gem.
10. California Scenario – The Noguchi Museum

Location: 611 Anton Blvd., Costa Mesa, CA 92626

The Noguchi Museum is both a hidden gem and secret spot to Southern California. The place is filled with rocks of all shapes and size, fountains, and other water features. One of the most prominent features is shown above. A low pyramid with streams of water running beneath it.

It may be small in size so you probably won't be spending your whole day here. What does make it worth mentioning here is the fact you can take some awesome pictures here. Many people love to take a picture of themselves jumping across the streams with the pyramid in the background.

So for amateur photographers or someone who is looking for a great social media picture both are encouraged to check this place out.
11. Crescent Bay Point Park

Location: Crescent Bay Drive, Laguna Beach, CA 92652

Crescent Bay Point Park is another hidden gem to Southern California. The place offers relaxing views of the ocean in a nice, clean park. It is almost picturesque once you find yourself there.

The park tends to be pretty quiet with not many people walking through it. You can sit back and listen to the waves crash and spend hours here without even knowing it.

The park has become a popular wedding spot for couples who are looking for a smaller, more intimate location to share their special moment.

The park contains a small semi-circle sitting arena and a small amphitheater that overlooks the ocean.

Found in a little quaint and eloquent neighborhood is worth sitting down and unwinding here.
12. Heisler Park

Location: 361 Cliff Drive, Laguna Beach, CA 92651

Heisler Park is located in the heart and center of Laguna Beach. The park gives its visitors a remarkable view of the Pacific ocean and the California coastline.

The park has a path that leads to the beach where the water isn't too rough. For young swimmers, it's a great place to play in the ocean because the waves aren't too rough for them.

If swimming in the ocean wasn't something you wanted to do while there, then explore the park. There are little coves dotted along the water and tidal pools to look and explore in. They'll be filled with wildlife and give an opportunity to teach your kids, if you have any, about ocean creatures.

Spending an afternoon there is definitely a doable thing. There are grass areas to have picnics and BBQ grills for cookouts. If not, then there are some nearby restaurants to the park including a coffee shop.

With rocks to climb on, wildlife to find, and a place to relax Heisler Park is a worthwhile hidden gem for stopping by.
13. Shake Shack

Location: 7703 East Coast Hwy, Newport Coast, CA 92657

The Shake Shack has been an icon to Crystal Cove Beach since the 1940s. The place became famous for their signature date shakes.

But other than their famous shakes, Shake Shack serves burgers, fries, snacks, and other sandwiches.

Customers of Shake Shack can walk up, bike up, or drive and park to get food from here.

Nothing beats a milkshake and a beach with a breathtaking view so check out a place that's been around since the 1940's. While you are in town if you want to search homes for sale in Newport Coast contact David Feldberg today!
14. Back Bay Loop Trail
Location: 600 Shellmaker Rd., Newport Beach, CA 92660

Back Bay Loop Trail explains itself really. The trail isn't a traditional trail where it is an old dirt path or a hike through some trees, it is a trail through the bay.
Back Bay Loop Trail is part of one of Orange County's nature preserves, Back Bay. Back Bay itself doesn't just sit in the bay, but in an estuary giving people a terrific opportunity to see some of Orange County's wildlife.
Now for the hidden gem that is the Back Bay Loop Trail. Many people love to frequent here because there are so many options as to what you can do and how you travel the trail. You will find when you arrive here that there are bikers, runners, walkers (and dogs as long as they're on a leash), horses, and even hikers that explore the trail.
There are even some people in the waters of the bay that are using stand-up paddle boards.
At the Loop Trail you have options as to what direction you take. There is an upper and lower trail. If you're up for the challenge you could do both!
The upper trail is more of the dirt path trail that gives you an overlook to the east section of Back Bay. The lower trail is better for seeing wildlife. You can encounter various bird species and other wildlife along here.
It's best to keep in mind before you hop in your car to come check out Back Bay Loop Trail is that the trail can be a trek. The trail can be over 10+ miles at points depending on how you travel the trails so be sure you are prepared for this endeavor.
Other than that, this is a worthwhile spot to visit whether you do a quick walk and turn around or you want to walk all over. It's an amazing time to be surrounded by nature while enjoying the scenery.
15. Pitcher Park

Location: 204 S Cambridge St., Orange, CA 92866

Pitcher Park is another small park found in Southern California. This isn't a typical park in terms of what it has. Rather than have places to run or field to play in, it is just a small, pocket park in Old Town Orange County.

But it isn't terribly small either. It's a perfect place for a picnic, some nice pictures, or learn about some of Orange County's history in the barn that gives small presentations on it.

This park makes for a great backdrop for pictures whether it be wedding or social media ones. You can take short walks and shake things up from your daily exploring routine to take a step back and unwind.
16. Fairview Park

Location: 2501 Placentia Avenue, Costa Mesa, CA 92628
Fairview Park is great for everyone. Some of the best features of Fairview is that it is close by to the Talbert Nature Preserve and Santa Ana River Trail giving guests a ton of options as to what they want to do.
The park itself is filled with a multitude of different trails based on what you want. There are paths for walkers, joggers, runners, and special paths just for bikers.
Not only that, but they do offer a small course and trail with some mounds for BMX bikers to enjoy.
Locals of the area love to go to here to fly model planes around in the expansive land.
There's a lot to explore in the park and some people describe walking around it as desolate and lonely, but not in a negative context. But a more respect and appreciation for nature as you stand out in the fields.
So check out Fairview park to do some bike riding or walking because it is a great place for families or anyone really.
Plus you can check out the nearby nature preserve and another trail to keep you entertained all day.
17. Pirate's Cove

Location: 2900-2998 T St, Newport Beach, CA 92625
Up next on our list is Pirate's Cove. This place is quiet compared to other places on this list and it's a relaxing place if you enjoy a more secluded beach experience.

You can find yourself here all day if you wanted to. There are little caves dotted along the shoreline that you can spend the day exploring. There are also trees to provide shade to relax under as you listen to the crashing waves and look out over the ocean. By the end of day, you find yourself settled on the California coast watching the sun go down on a secluded beach.

The best time and the quietest time to come here is during the week when most people would be in school or at work. All it takes to get down to the beach is to go down a set of stairs or climb over some rocks for the more adventurous.

But whichever path you choose you'll find yourself in a small cove near the ocean that opens to the rest of the beach.

If anything is a worthwhile stop in Southern California hidden gems and secrets spots it's here. It's an unforgettable place that can give you an unforgettable experience.
18. Thousand Steps Beach
Location: 9th Ave. & Pacific Coast Hwy., Laguna Beach, CA 92652
It's not calledThousand Steps Beachfor nothing. There are 230 steps you must walk both down and up to enjoy this beach. But don't let that turn you away from the Orange County iconic hidden gem.
This beach is filled with things to do. Many people walk up and down the shoreline here to enjoy the ocean and the sun. Others love to swim in the California water's, but be warned the water and waves can get a bit rough if you're not expecting it.
Thousand Steps Beach is unique just like all the other beaches. It's secluded, clean, and quiet which are the three key things to make something a hidden gem and not a tourist spot.
If you decide to take the challenge of Thousand Steps Beach then make sure you know where you're going. It can be hard to miss sometimes if you're not looking close enough. So take the challenge and visit another one of Orange County's more secluded beaches for a memorable trip.
19. Sawdust Art Festival
Location: 935 Laguna Canyon Rd, Laguna Beach, CA 92651
The Sawdust Art Festival isn't really a secret being that it attracts over 200,000 visitors each year but it is definitely worth a visit! Open each year for the months of July and August this festival was really created to feature all of the wonderful art created in Laguna Beach each year.
You will find all local artists creating ceramics, clothing, glass blown items, Jewelry, paintings, photography, sculptures and woodworks just to name a few.
You can easily lose yourself for a couple of hours walking the sawdust covered paths looking at amazing works of art and speaking with the local artists themselves.
Its a wonderful experience and located in Laguna Canyon its usually a very comfortable temperature.
20. Black Star Canyon Trail
Location: Black Star Canyon Rd., Orange, CA 92676
Black Star Canyon Trail is a wonderful walk through wilderness for any outdoor loving person or someone who enjoys walks and wants a challenge.
The trail spans 6.8 miles that has light traffic throughout it. Found in Silverado, California it has features along the trail such as a waterfall, but be warned the trail is rated by many experienced hikers as somewhat difficult.
Don't worry though, just because it is rated difficult doesn't mean it's impossible. It means that if you want to do it you just need to be in some physical shape and have the correct footwear to be able to traverse certain parts of the trail without too much issue.
If you also happen to have a pet they can come along on you day hike through the Orange County wilderness and see the waterfall too.
So, if you're willing to take the journey on Black Star Canyon Trail you best be prepared. Many people who have hiked here recommend that you wear hiking shoes because running shoes or gym shoes aren't as suitable for the terrain ahead. They also recommend wearing long pants to protect your legs from the low-lying shrubs on the forest floor.
Really though, this is most likely one of the best hidden gems of Orange County. Beaches are great, but after a while they can seem the same. So step out of beach tourism even if they are hidden gems and find yourself out for the day hiking.
Many amateur hikers and beginners were able to hike the trail so any level beginner to professional should make a day for this while in Orange County or as a day trip if you're a local.
It'll give you that feeling of satisfaction as you climb and hike your way through the forest. But most of all you can say you've explored one of Orange County's hidden gems.
If you know of any more hidden gems or secret spots of Southern California leave a comment of where it is. Now add these places to your next visit and explore on!
Real estate has always been a passion for David Feldberg. He graduated from the University of California, Irvine with a degree in Sociology and is also an involved alumni and member of Sigma Pi Fraternity.
After graduating, he moved quickly into the Newport Beach real estate market here in Southern California. He started out in the world of real estate financing where he received an in-depth look at how banks and brokers underwrite loans. This experience allowed for a greater ability to direct clients to the most beneficial loans for their financial situation.
His passion for real estate continued to grow and shortly into his career he made the move towards obtaining his real estate broker's license in 2003. Since then, he has helped hundreds of clients with their real estate needs and is proud to help families in Orange County and all of coastal Southern California.

David always tries to walk in his client's shoes. His genuine care for their well-being is evident in the number of repeat clients and referrals he receives. David loves meeting people from all walks of life and loves helping them buy or sell their home. Whether you are a first-time home buyer looking for a starter home or a seasoned, real estate investor looking for a luxury, primary residence or units to provide cash flow—he can help. David provides a full-service experience and is a 5-star agent with Zillow, Yelp and Google.
Additionally, he is on the Technology Task force with the Pacific West Association of Realtors and is the running chair of the Irvine Chamber of Commerce's Wednesday networking group. In his spare time, you can find David spending time with his family, relaxing in the Newport Harbor on the Mint Julep, volunteering at the American Legion, at the Merage Jewish Community Center or working with I.C.A.R.E. Dog Rescue.
CA BRE # 01378475
For more information about David Feldberg and his brokerage, please visit https://www.coastalgroupoc.com/
Recently I asked 24 of real estate's greatest minds to answer a question on the best way to increase your home's value for $5,000 or less.
I was blown away with the quality of the responses I got, and the huge amount of information that the experts generated.
The problem? It can be hard to digest all that information in one sitting. So, this infographic takes all of the best information the experts gave and can help you visualize the most important ways to boost your real estate value without going in the hole for a bundle.
Enjoy!

Your dream of owning a home is within your reach!! But when should you reach out and talk to a mortgage lender? Listen in while long time broker, David Feldberg speaks with Beny Rabuchin of New American Funding to answer this important question.
Who doesn't like to save money? Listen to all the ways you can save money on your insurance. Sit down with State Farm Agent, John Kerkes, and see what he has to say on the topic.